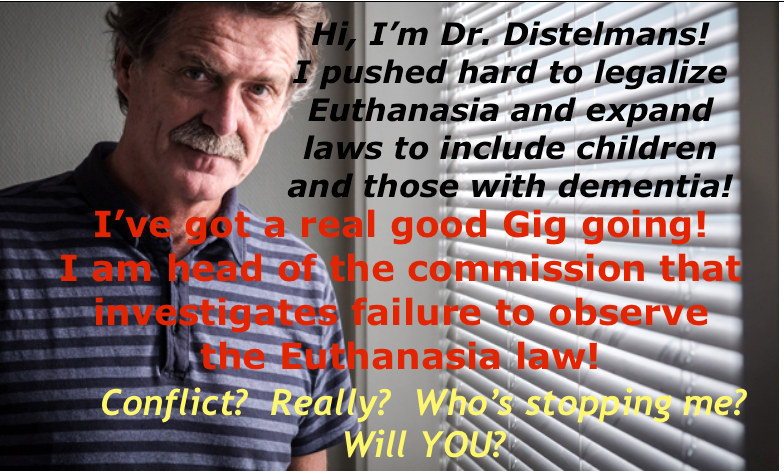 This article covers,
Some stories of those dying under Dr. Distelmans
Issues/Consequences with Dr. Distelmans' practices
Dr. Distelmans' Euthanasia Group Tour of Auschwitz
Dr. Distelmans chose to end the life of two twins, Marc and Eddy Verbessem, from the village of Putte, near the city of Mechelen. These twins were born deaf and at 46 years old, wanted to end their lives because they found out they might go blind.
They were cobblers, shared a flat together, took care of themselves, their cooking and cleaning.
The Verbessem case is unusual because neither of the men was terminally ill nor suffering physical pain.
Professor Wim Distelmans, the doctor that took the decision to euthanise the twins, defended his decision.
"It's the first time in the world that a 'double euthanasia' has been performed on brothers," he said. "There was certainly unbearable psychological suffering for them. Though there is of course it always possible to stretch the interpretation of that. One doctor will evaluate differently than the other."
This occurred in 2013 and was another precursor and justification for Distelmans to push forward a bill that would allow him to do the same to children. That passed by an astounding vote of 86 for to 44 against in Belgium!
Last month, Belgium's government announced plans to amend the law to allow the euthanasia of children and Alzheimer's sufferers. If passed, the new law will allow euthanasia to be "extended to minors if they are capable of discernment or affected by an incurable illness or suffering that we cannot alleviate".
Alex Schadenberg, for the Euthanasia Prevention Coalition, states,
"Euthanasia is sold to the public as way to escape a horrible death. The euthanasia lobby feeds the media with a series of stories of people, who are "terminally ill" and "suffering" and yet euthanasia is not limited to these people, it includes people with depression."
Tom Mortier, De Troyer's son, responded to the euthanasia death of his healthy depressed mother by seeking answers. The New Yorker magazine has produced this in depth article in response which can be found in the sources at the end of this article.
The article gives Mortier's mother's story in which she had chronicled her difficult childhood and various up's downs.
Right after she went through an "up" period in which she had a new boyfriend and a granddaughter, she ended up breaking up with her boyfriend so was plunged into yet another deep depression. She of course ended up distancing herself from her family.
"Somewhere in her deep depression she met a certain doctor. Here is the description from
In the summer of 2011, when she was sixty-three, Godelieva met a new doctor. She attended a lecture by Wim Distelmans, an oncologist and a professor of palliative medicine at the Free University of Brussels. Distelmans was one of the leading proponents of a 2002 law in Belgium that permits euthanasia for patients who have an incurable illness that causes them unbearable physical or mental suffering. Since then, he has euthanized more than a hundred patients. Distelmans, who wears leather coats and boots and artfully tossed scarves, has become a celebrity in Belgium for promoting a dignified death as a human right, a "tremendous liberation," and he gives talks at cultural centers, hospitals, and schools around the country."
Here's yet another story in connection with Dr. Distelmans concerning Pegie Liekens and Nancy Vermeulen, who according to the National Post, "looked out of place among the older crowd at a public lecture here last month explaining the procedure for legal euthanasia.
But towards the end of the talk by Belgian physician Wim Distelmans, Ms. Liekens stood to ask a question: Is euthanasia available to young people tired of being subjected to endless medical treatments? To the two women's relief, the answer was yes.
Best friends for the last 20 years, Ms. Liekens, 44, and Ms. Vermeulen, 43, have worked together, travelled together, talked endlessly on the phone together and cried together. Now they are taking steps to die together.
Trouble began when Ms. Liekens underwent bariatric surgery to combat obesity and suffered life-threatening complications.
Now, she said, her diet is restricted to liquids and soft foods and she requires regular blood transfusions because she has anemia. Recently she was diagnosed with a herniated disc that has compounded her pain."
I'm fed up with the food," she said. "I want meat and fish. I don't want to be an old lady unable to drink a glass of champagne or eat a good meal."
Ms. Vermeulen had been Ms. Liekens' main support, but then she was diagnosed with multiple sclerosis in 2011 and suddenly needed support herself. The disease is still in its early stages, but it can lay her flat for months at a stretch.
Ms. Liekens has decided she wants to be euthanized once her son, now 17, has finished school and settled down. Ms. Vermeulen said she wants euthanasia before she becomes incapacitated like some of the people she sees in an MS centre she visits.
One doctor told Ms. Vermeulen, " not to lose hope that a medical advance could change her life. "He said, 'No, you're too young."
But they are running out of patience. They listened to Dr. Distelmans' advice and plan to download the necessary forms and consult doctors with a Flemish organization focused on end-of-life care.
Source at end of this article.
As pointed out by Life News,
In a three-page letter Tom Mortier and Dr Georges Casteur allege that Distelmans did not have the expertise to evaluate whether Mortier's mother, Godelieve De Troyer, was ready for voluntary euthanasia.
They point out that Distelmans is not a psychiatrist or even the woman's family doctor, but a cancer specialist. However, De Troyer was physically healthy and not suffering from physical pain.
Before contacting Dr Distelmans she spoke with psychiatrists who thought that she could recover from her evident emotional distress.
She was also taking medication which can cause suicidal ideation, but Dr Distelmans did not seem to take that into account.
Mortier says that De Troyer did not want her family to be notified because she was suffering from clinical depression. He feels devastated because he was unable to bid her farewell when she died in 2012.
Mortier and Casteur have also questioned how euthanasia is currently regulated in Belgium. De Troyer made a donation of 2,500 Euros to Distelmans's right-to-die association, LEIF, two months before she died. Distelmans administers euthanasia to many patients, but he is also the head of the commission which investigates failure to observe the euthanasia law. They suggest that this is a clear conflict of interest and that the composition of the commission should change.
In yet another article by Life News,
In September, the 60-year-old physician gave a lethal injection to Nathan Verhelst, 44, depressed over a failed sex-change operation. Last year, he oversaw the double euthanasia of Marc and Eddy Verbessem, 45-year-old deaf twins who chose to die after learning they would lose their eyesight. Also last year, he euthanized a despondent Godelieva De Troyer, 64, whose children learned of her death after the fact. And he acknowledges there are many more "borderline" cases that the public never hears about.
Nothing will be done about this man's radical death-on-demand absolutism. Hence, he–and others like him–rather than the law, control the limits of euthanasia. He essentially has a license to kill anyone who wants to die who he thinks has a life not worth living.
That is the only real limit on euthanasia–the farthest extent to which the most radical death doctor is willing to go.
This stated in the National Post in 2013 prior to making killing children under the term, "euthanasia!" Sadly, it is legal now as I covered in the aforementioned steemit article.
To some, Dr. Distelmans has come to embody the dangers of legalized euthanasia. "What is he? Is he God or something?" Ms. De Troyer's son, Tom Mortier, asked in a recent interview.
But while he has his critics, more Belgians see the charismatic Dr. Distelmans as a hero. On one Wednesday night last month, more than 300 people turned out in Zemst, north of Brussels, to hear Dr. Distelmans talk about dying. Dressed in jeans, a polo shirt and a black sweater, he explained how to request euthanasia in a two-hour presentation peppered with jokes. One audience member, 76-year-old Simone Vleminckz, hailed Dr. Distelmans as someone who has devoted his career to ending people's suffering. "I think he knows the pain people feel," she said. "You see it in his face."
Polls here show broad support for euthanasia, and the number of cases has grown steadily every year, from 235 in 2003, the first full year it was legal, to 1,432 last year. While the Quebec government pushes forward on a euthanasia law modeled after Belgium's — the province's Bill 52 passed second reading last month and is now under study by a legislative committee — the current debate here in Belgium is about expanding the euthanasia law rather than restricting it. And Dr. Distelmans is on the front lines.
In an interview at a clinic he runs in the Brussels suburb of Wemmel, Dr. Distelmans defended his actions and argued that Belgian euthanasia law — which some argue has opened the door to abuses — should be expanded to cover children and people suffering from dementia.
Dr. Distelman is a cancer specialist. He pushed to introduce palliative care in Belgium 30 years ago.
More eyebrows were raised when, according to Live Action in 2014,
Earlier this year, Dr. Wim Distelmans raised eyebrows when it was revealed that he was organizing a euthanasia tour of Auschwitz, a venue that he called "inspiring" — not entirely surprising when you practice the art of dealing death, as Distelmans is.
His trip has now concluded, with about 70 people attending, most of whom practice euthanasia in Belgium. Protests surrounded the trip, and especially Distelmans himself. The German publication Der Spiegel described the trip this way:
That evening, the group checks into the Hilton Garden Inn Hotel. In the marble lobby there is a sign that reads "Dying with Dignity." It is the evening before the visit to Auschwitz. "This way," says the tour guide, as he directs the Belgians toward a conference room. The idea is to find the right frame of mind for Auschwitz. Distelmans steps up to the podium. "We are here today to allow ourselves to reflect on dying with dignity," he says. "There were protests before our trip. But there is no better place than Auschwitz to ponder the meaning of dignity. When we deal with euthanasia, we must also come to terms with its opposite. In Belgium we use euthanasia in the original sense of the word: It means 'good death.' That's the problem. We will have to explain over and over that we intend the opposite of what occurred in Auschwitz."
… "But we have to make sure that we do not continue to treat our patients, against their wills, when they actually want to die. Nobody should assume that they have the power to judge what a life is worth. We must become the servants of our patients, and when it comes to the end, we have to accept our failure as physicians."
Distelmans is correct that it is unethical to treat patients against their will. If a person wishes to discontinue treatment, then they have the right to do so. What he does not seem to understand is that there is a vast difference between withdrawing treatment, allowing death to occur naturally, and actively killing someone.
This tour of Auschwitz was highly criticized, including by the deputy director of the Auschwitz memorial, who said that attempts to link euthanasia to the history of Auschwitz was inappropriate.
Distelmans is now being referred to as "Dr. Death", and orthodox Jews protested his description of Auschwitz as inspiring, calling him a professional killer — which, of course, he is. And that's likely why he draws such inspiration from Auschwitz. Like the Nazis, Distelmans routinely kills the disabled and the mentally ill, people who believe that their lives are no longer worth living. Rather than affirming their inherent dignity and value as human being, Distelmans agrees with them, and will euthanize someone for going blind, or for suffering from depression, or for being transgender.
When you consider his history, then sure. A tour of Auschwitz to learn from the Nazis' killing machine makes perfect sense.
What are your thoughts on what this doctor, who has been referred to as Belgium's Dr. Kevorkian?
Is it okay to push this kind of agenda even when one does not have a terminal illness?
How broad is the definition of psychiatric stress or pain?
Is it okay to do this for those who feel they are depressed or have nothing to live for? What kind of dangers do you see with this philosophy and legalization of killing? Please let me know in the comments below! Godspeed!
See the details here and three child victims
https://steemit.com/informationwar/@artistiquejewels/remember-when-belgium-became-the-first-country-to-allow-child-euthenasia-those-two-words-shouldn-t-even-be-uttered-together